Gloucestershire cows ID scam probe leads to DNA-tagging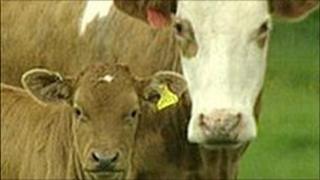 DNA-identification is being introduced on TB-infected cattle after claims that farmers were illegally swapping ear tags from diseased to healthy stock.
Defra said evidence was emerging that some farmers may have retained infected animals and sent less productive ones to slaughter in their place.
Investigations are being carried out by Gloucestershire Trading Standards after claims were made to them in February.
From mid-April, TB-positive cattle will be DNA-tagged to strengthen controls.
A sample of the DNA will be retained by Animal Health and cross-checked at random - or where fraud is suspected - against the DNA of animals sent to slaughter.
The alleged evidence of fraud emerged from an investigation instigated by Gloucestershire Trading Standards, which reviewed TB cattle sent to two slaughterhouses.
Crazy practice
Inquiries are continuing there and at slaughterhouses in the South West and West Midlands, Defra said.
Cotswolds dairy farmer Jan Rowe, who is TB spokesman for the National Farmers Union, said he was horrified at the "crazy" practice.
"What's been happening here is that the identity of one animal is being swapped with another one," he said.
"When the animal has been discovered to be a TB reactor, then a substitute animal of lower value has been sent off in its place, which means the diseased animal is staying on the farm, but also compensation payments are being made on an animal which is perfectly fit and well and that is totally fraudulent."
Agriculture Minister Jim Paice said he was "absolutely appalled that any farmer would deliberately break the law in this way".
"The vast majority of farmers with TB in their herds are doing the right thing and it's reprehensible that anyone should be trying to get around the tough measures that are helping to control TB in cattle," he said.
The Bovine TB Eradication Group for England (TBEG) also condemned the practice.
"We have given clear advice on what measures should be put in place quickly to tackle the problem," it said.
"This suspected fraudulent behaviour by a few farmers should not be allowed to unfairly damage the reputation of the responsible majority or to undermine the TB control regime."
A statement from Gloucestershire Trading Standards said it was unable to comment further as it was an "ongoing investigation".