Stephen Morris reviews singer/songwriter Evan Burgess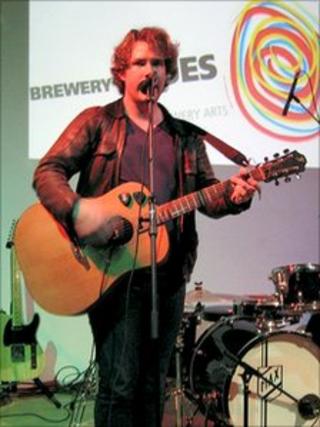 There are a great many mysteries in this world.
What exactly happened to the crew of the Mary Celeste?
How did the druids manage to hunk a load of stone from Wales to Salisbury Plain? More to the point, why?
And just what is this bizarre fascination with Justin Bieber (and when will it GO AWAY)?
Another subject of much mystery - but far less public speculation - is this: why have I never reviewed anything by Evan Burgess before?
The singer/songwriter has been doing the rounds in Gloucestershire for years now.
He's even contributed the odd article to this very website and sung on BBC Radio Gloucestershire before now. And yet I've paid him very little, if any, attention.
I am very, very sorry, Evan.
I'm particularly sorry because, actually, Burgess' music is rather good.
His is an acoustic sound - generally on the morose side of things - as all good singing and songwriting should be - but not without its humour.
The songs currently featured on his MySpace page feature a variety of sub-genres.
'Don't think we should have met', for example, has a deep folky-ness to it, full of rich harmonies and mournful lyrics - the sort of thing you might find on the recordings of Aspen Sails who are also Gloucestershire-based songsmiths.
'Stealing a bicycle in Lund', meanwhile has more of a reggae feel to it with its off-beat groovy bassline.
It's not too far removed from the sort of thing you might have expected from The Police (Oh, the irony; what with this being song about a crime and all! Geddit?).
There are some fantastic moments in the track where the rise in volume is accompanied by fantastic stereo sounds which swirl from left to right and seem to merge somewhere inside your head.
Meanwhile 'Flow' is an enchanting song rising and falling like a tide of sonic beauty.
The tune is supported by a gorgeous, jangling mandolin. The effect is as disarming as when that instrument was used on REM's 'Losing my religion'.
Lyrically, there seems to be an overwhelming sense of regret to Burgess' songs.
Even in the more light heartedness of 'Stealing a bicycle…' the regret comes through. (Not that the theft of bicycles is a light hearted matter - in Lund or anywhere else. Please don't try this at home kids!).
Elsewhere, 'Flow' and 'Don't think we should have met' feature more conventional forms of regret.
'Flow' features lines about "moving forward whilst facing back" and "it's the way we live our lives/like we're always on trial".
Meanwhile 'Don't think…' recalls an ill-advised relationship: "passion is a crime", Burgess sings in full self-flagellation mode before returning to a chorus of "and when the tears come, let them".
This then, marks a short series of excellent songs in the vein of Tom McRae and other miserablists and misfits.
In the space of the four songs Burgess has available on MySpace it's clear we have yet another very talented musician in our midst. I'm just sorry I didn't pay him his due sooner.