Cheltenham nightclub evacuated after fire breaks out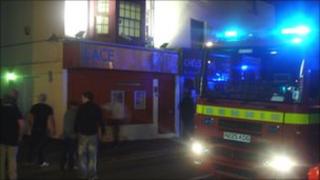 About 200 partygoers, many of them students, were evacuated from a Cheltenham nightclub after a fire broke out in the early hours.
Fire crews tackled the blaze as it spread through an air conditioning unit in the roof of Lace in Albion Street.
An aerial ladder platform was used to access electric motors on the outside of the building to prevent the flames spreading further.
An investigation into the cause of the fire is now under way.
Gloucestershire Fire and Rescue Service watch manager Mark Astle said: "When our crews arrived, they were met by a full-scale evacuation and smoke pouring from the roof.
"Firefighters wearing breathing apparatus entered the building and quickly completed a search for anyone left.
"Other crews made their way to the top of the building and extinguished the fire, which had spread into cabling.
"Thankfully, the quick actions of the nightclub staff in clearing the building of so many people prevented this becoming potentially a much more serious incident."