Seventy jobs could go at Gloucestershire College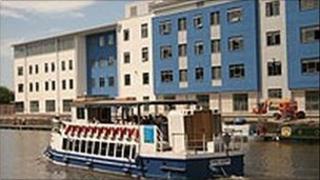 Seventy members of staff at Gloucestershire College could face redundancy, it has been announced.
Principal Greg Smith said the move was due to unprecedented cuts to further education funding across the country.
Senior managers and union representatives met on Monday to officially begin the consultation process.
Most of the job losses are expected to be at the college's three IT training centres.
The Do IT centres in Cheltenham, Gloucester and Tewkesbury currently employ about 40 staff, but a college spokesman said student numbers had been falling and all three would close in the summer.
Existing students' courses at the centres will not be affected.
About 20 teaching posts at the college are also expected to go, but the spokesman said courses would not be affected there either.
Seven non-teaching posts will also be cut.
'Reduced student demand'
The college said it was expecting a budget cut of £1.3m next year.
Mr Smith said: "It is with regret that we are making this announcement. Every effort has been made to avoid compulsory redundancies.
"Over the past 18 months we have worked to mitigate the extent of redundancies; freezing vacant posts, continuously reviewing our procurement policies, and making significant non-pay savings as well as developing other income streams.
"However, the magnitude of the cuts facing the further education sector are such that further measures are needed."
He said the Do IT centres had been successful for a number of years, helping many adult students improve their skills in IT, basic literacy and numeracy.
"Unfortunately, the basic business model on which they were built - high volumes of students using the centre on a drop-in basis - no longer works due to a combination of reduced student demand and the impact of the funding changes," he said.
The consultation period will last a minimum of 30 days.
Gloucestershire College merged with Royal Forest of Dean College in February in a bid to prevent closure.