Open verdict on fall death of Cheltenham's Jake Johnson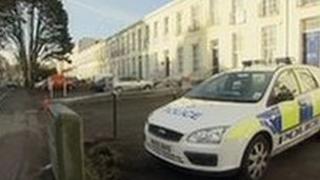 The inquest into the death of a Cheltenham teenager who fell from a window has recorded an open verdict.
Jake Johnson, 19, suffered fatal injuries after falling 30ft (9m) at a his cousin's party in Rodney Road, late on Christmas Day 2009.
The inquest at Stroud Magistrates' Court heard witness statements did not fit together and the coroner could not get a true picture of what happened.
But coroner Tom Osborne said he did not think the witnesses were lying.
Mr Osborne, assistant deputy coroner for Gloucestershire, blamed the differences on them all being very drunk and having taken drugs.
Blood on floor
He gave his condolences to the family and told the inquest he believed problems began when Dylan Taylor, who was also at the party, upset Mr Johnson.
At one point Mr Johnson's cousin Sonny had found him crying in the bathroom and tried to calm him down.
Witnesses stated that later Mr [Jake] Johnson took a carving knife and sliced Mr Taylor in the face, said Mr Osborne.
After that there was a fight between Mr [Jake] Johnson and Mr Taylor, and Mr [Sonny] Johnson tried to break it up.
Shortly after that Mr Johnson fell from the window, but the inquest heard none of the witnesses saw him fall and police could not even tell which window he had fallen from.
When officers reached the scene there was blood across the walls and pooled on the floor.
'My hero'
Eight people were arrested in connection with his death but they were later released and no further action taken.
Mr Johnson's mother, Debbie Rodway, said: "Jake was my hero... and the life and soul of the family, he was confident and well-liked.
"He was just at the wrong place at the wrong time."
Mr Johnson, from Arle in Gloucestershire who was studying bricklaying at Gloucestershire College, was taken to Cheltenham General Hospital but died from his injuries in the early hours of 26 December.