Stephen Morris reviews Cheltenham band Stressechoes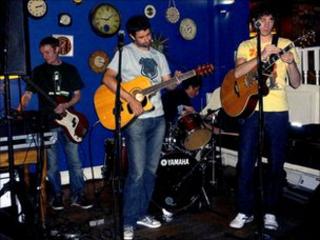 Back at the turn of the millennium, shortly after we were all supposed to die of a mythical computer virus that couldn't tell the time, a new music craze swept the country - if not the world.
But it did so quietly. Very quietly. In fact, that was the whole point.
Some dubbed it "Quiet is the new loud", a tribute to Kings of Convenience's beautiful debut album.
There were also acts like Ben and Jason, January, Badly Drawn Boy, Elliot Smith and Turin Brakes.
About this time Island records took the zeitgeist back to its logical roots with a snazzed-up re-issuing of Nick Drake's albums.
A decade later the "Quiet is the new loud" sound has matured and evolved.
It's inspired a whole array of singer/songwriters and has informed much of the folk revival we've seen in the likes of Mumford and Sons.
Which brings us to Stressechoes. The four-piece band from Cheltenham follows the tradition beautifully.
Theirs is an acoustic sound of all round loveliness, with slight folk inflections.
Their MySpace page currently features eight songs that are, in turn, tender, honest, dark and witty.
Seven of these songs are reproduced on their Bitter Acoustic Noise mini-album.
'Brutally honest account'
A key theme of Stressechoes' songs embraces the foibles and failings of, as one song puts it "being a man".
That song in particular makes some pretty honest admissions about a man at his weakest: "I'm not trying to make excuses/but it's easier to act the bad guy" runs the coward's confession as the song opens before lunging headlong into more admissions with the chorus: "He who makes a beast of himself/gets rid of the pain of being a man."
The beast rears his ugly head once more in 'Onto the Sun', where our guilt-ridden monologist admits: "I never loved you and I lied to get you into bed".
It's a brutally honest account of a man's shallowness and weaknesses.
Probably not ideal listening for any recently dumped ladies out there, but it is a compelling insight into the male psyche nevertheless (well, some male psyches. Not mine obviously!).
The self-flagellation continues in songs like 'Alcohol' (lines like "commotion is with me as the shadows start to crawl/dusting off an apology" suggest it's not just the booze talking) and 'Uncomplicated' with its self-pitying threats of "If you leave I will smoke again/and if you leave I'll tell bad jokes again".
Even in songs featuring less guilt, there remains a frailty about the male condition.
The opening song, innovatively titled 'Intro', features the poignant lines: "I can't leave my heart in someone else's hands/it's all I've got".
Meanwhile 'Branches' takes a turn for the morbid as the song's character feels the sharp pull of regret when faced with "some poor boy's final resting [place]".
'Male self-loathing'
There are two reprieves from this onslaught of male navel-gazing: one sweet, one sour.
'Most Delightful Day' reflects just that: a delightful day somewhere near the beginning of a relationship ("Would you care to take a walk with me/or maybe you could come to mine for tea").
It has a charming innocence to it (even with the gentle innuendo) which recalls Clearlake's 'Jumble Sailing' or Ralph McTell's 'Maginot Waltz'.
More worryingly, with the Godfather Trilogy reference, there's a comparison to be made with that annoying dating website advert on the telly.
There's even an allusion to The IT Crowd with talk of the fictional social networking site 'Friendface'.
The sour respite from male self-loathing appears in the form of 'Bodies' which tells the tale of corporate murder: "The butcher and the baker and the banker started a fire/they had to destroy the bodies".
Later, a policeman and lawyer get in on the action because they all have "reputations to maintain/upstanding members of the community".
It's like a musical version of that bit in Hot Fuzz where… no, I won't say anymore just in case you haven't seen it.
'Lightness of touch'
Musically the band's songs are stripped down to the barest of essentials.
Opening track, 'Into' is, but for some catchy thigh slapping, an acapella number.
Elsewhere, the songs may have more instruments added into the mix, but there is still a lightness of touch which adds to the tenderness and poignancy of the lyrics.
In fact, it's this delicate texture which acts as the convincer beneath the tales of wrong doing found in the song lines; it's in the melodies and less-is-more accompaniment that the true sense of regret and bitterness can be truly found.
For comparisons you could look to a wide range of artists.
Simon and Garfunkel can be found lurking in the subconscious of 'Being a Man', while The Beautiful South or The Housemartins influence 'Uncomplicated' and Rod Stewart's 'Maggie May' informs 'Branches'.
Stressechoes' songs are a triumph of heart-on-sleeve storytelling supported by understated, beautiful music.
You'd be very well advised to lend them your ears.