Two Rivers housing association reviews asbestos plan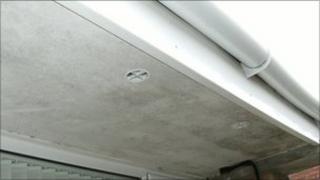 A Gloucestershire housing association has made changes to its procedures for dealing with asbestos after a tenant was exposed.
A report by the housing ombudsman found Two Rivers Housing Association did not follow guidelines when doing work on the home in Coleford.
Contractors cut through a board, later found to contain asbestos, while trying to cure a condensation problem.
Two Rivers acknowledged it had failed to follow the correct procedures.
'One-off' situation
Brian Jackson, who owns the affected bungalow, says he is concerned for his health, and worries it could happen to other tenants.
"I was really really frightened - I've always tried to look after myself - and to think I've been exposed to asbestos through no fault of my own makes me really angry.
"If we've caught it [asbestos-related disease] I don't know, it could happen in months, years - even up to in 25 years' time.
"It's like the sword of Damocles hanging over you," he said.
A Two Rivers spokesman said it believed the incident was a "one-off situation".
"We failed to follow the correct procedure for dealing with asbestos, but we have since made changes to prevent a recurrence of this."
Two Rivers manage some 3,600 homes in the Forest of Dean.