Stratton village post office reopens after campaign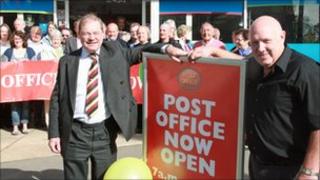 A Cotswold post office has reopened three years after being shut as part of a nationwide restructuring.
Residents in the village of Stratton, near Cirencester, Gloucestershire, campaigned against the closure saying it was a popular local facility.
Stratton Stores will now offer post office services over the counter between 0700 BST and 2100 BST, seven days a week.
The move, which will create five jobs, is part of a national trial.
The new service was opened on Monday by Conservative Cotswolds MP Geoffrey Clifton Brown.
John Lafford, the owner of Stratton Stores, has so far pumped £10,000 into the project.
"We never wanted to close because the post office was making money because customers were using it," he said.
'Lifeline for customers'
He said hundreds of people from Stratton and surrounding villages had campaigned to keep the service, but the Post Office made the postmaster redundant in 2008.
The new facility is being run under the new Post Office Local initiative, which is being trialled in a few areas across the UK.
Services such as recorded deliveries and pension and benefit payments will now be offered over the shop counter, rather than via a dedicated post office window.
Mr Lafford is responsible for providing the equipment and the staff, with the Post Office monitoring facilities and assessing customer satisfaction.
"Stratton Store is a lifeline for many of our older customers who live close by, and for younger families with children too," he added.
"We hope that the reintroduction of this service will make their lives a little easier."
The Post Office's Network Change Programme saw approximately 2,500 branches closed over an 18-month period which began in October 2007.