Bishop praises Cotswold churches ahead of festival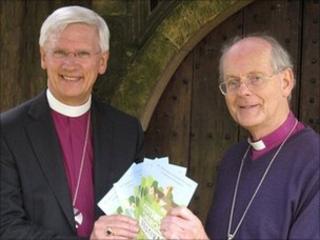 The Bishop of Tewkesbury has praised the caring role of Cotswold churches within the villages they are set.
The Right Reverend John Went said they are not only "very fine buildings" but also a local "focus of Christian care".
From 14-22 May, over 100 churches will be opening their doors as part of the Cotswold Churches Festival.
Together they will welcome visitors with everything from cream teas and guided tours to extensive exhibitions and concerts.
One of the churches taking part - St Edward's Church in Stow-on-the-Wold - is hosting talks on stonemasonry, stained glass and wild flowers, as well as quizzes, refreshments and a concert.
There will also be a collection of handcrafted kneelers on show and an exhibition of crafts provided by children from the local primary school.
Family history
All Saints in Down Ampney will be staging an exhibition about the life of composer Ralph Vaughan Williams, who was born in the village.
Elsewhere, visitors to St Barbara's church in Ashton under Hill, Worcestershire, will have access to a computerised database of information derived from Church Registers (1586-1950) and local Census Returns (1841-1911) to help them research the history of their family in Ashton.
St Mary the Virgin, Cropredy, will be celebrating the life of the little known St Fremund.
St Peter's in Broughton Poggs, Oxfordshire, will be displaying wedding and/or christening gowns belonging to residents of the village.
A singing workshop is being offered at St Mary's in North Leigh, Oxfordshire, and the director of the National Portrait Gallery will be giving a talk at All Saints in Faringdon.
'Spiritual life'
The idea for the festival originated with the Diocese of Oxford, but includes churches from neighbouring Anglican dioceses in Gloucester, Coventry and Worcester.
The Bishop of Dorchester, the Right Reverend Colin Fletcher, is chair of the planning committee.
He said: "For centuries, the churches have been at the centre of community life. Our new Cotswold Churches Festival gives us an opportunity to show visitors the spiritual life on offer in our churches today, alongside our rich history and tradition.
We look forward to giving our visitors a warm welcome and telling our story."
The Bishop of Gloucester, the Right Reverend Michael Perham, will be preaching at a special Festival service at St Mary's Fairford on 15 May.