Rare marsh fritillary butterfly thriving in Cotswolds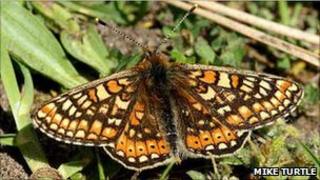 Conservationists have said one of Europe's rarest butterflies is thriving in Gloucestershire.
Thousands of marsh fritillary caterpillars have been found at a nature reserve near Chalford.
Experts have said "huge numbers" of the adult butterflies have already emerged and they expect at least 15,000 over the next few weeks.
The orange, brown and yellow insects are in severe decline all over Europe, mainly due to habitat loss.
Sue Smith, chairman of Butterfly Conservation's Gloucestershire branch, said: "They do seem to be doing exceptionally well."
'Large explosion'
An annual winter survey at the main breeding site, between Chalford and Oakridge, showed there were just seven webs containing larvae three years ago.
This winter there were 300, and each web contained 50-100 caterpillars.
Marsh fritillaries feed on devil's bit scabious, and virtually all of the plants at the nature reserve have been eaten this year.
The Gloucestershire branch of Butterfly Conservation is asking for the public to help by reporting any sightings of the butterfly.
"When you get a large explosion of butterflies like this they are likely to spread outwards looking for pastures new, so we would be very interested to know if people see them in their gardens or farms.
"It may be that if the right food plant is growing in the right situation they could even start up another colony elsewhere," Ms Smith said.
Anyone who spots one of the butterflies is asked to report it, giving a date, time, numbers seen and exact location (postcode or grid reference) to the Butterfly Conservation website.