Cotswold Geotechnical Holdings loses death appeal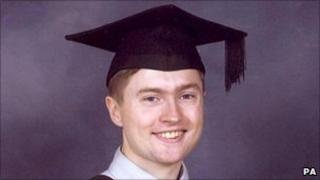 A Gloucestershire company has lost an appeal against its conviction for corporate manslaughter.
Geologist Alexander Wright, 27, from Cheltenham, died in September 2008 when a pit he was working in collapsed.
Cotswold Geotechnical Holdings became the first firm convicted under new corporate manslaughter legislation at Winchester Crown Court in February.
The Lord Chief Justice Lord Judge also upheld its £385,000 fine at the Court of Appeal in London on Wednesday.
Mr Wright was taking soil samples for a housing development in the 12.6ft (3.8m) pit in Brimscombe Lane, near Stroud, which was not supported by timbers, when it caved in.
The jury at Winchester Crown Court found Cotswold Geotechnical Holdings guilty of failing to ensure his safety.
Lord Judge said it was "unavoidable and inevitable" that the company would probably have to go into liquidation to pay the fine.
The prosecution was the first under the Corporate Manslaughter and Corporate Homicide Act 2007.