Bond girl Fiona Fullerton's prison pen-pal appeal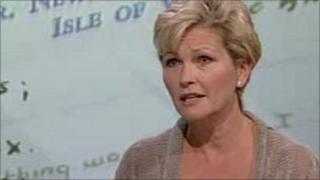 A former Bond Girl has appealed for help in finding an pen-friend, who wrote to her regularly from his prison cell.
Fiona Fullerton, who lives in Cirencester, Gloucestershire, appeared as a KGB agent in the 1985 Bond film A View to a Kill.
In the 1970s she formed a friendship with Anthony Alexandrowicz, who claims he was wrongly imprisoned for spying.
Ms Fullerton now wants to get back in touch before her new book about his ordeal is published.
"He was imprisoned for 22 years for something he didn't do," said Ms Fullerton.
"I really need to get hold of him... so that I can get his blessing and I want to know that he's alright."
Ms Fullerton is writing a book about Anthony Alexandrowicz - known as Alex - which details their friendship, and the letters and poetry he sent to her while he was imprisoned.
"We've tried all the obvious channels. He does have an internet presence but that goes cold in about 2009," said Ms Fullerton.
She discovered he had MySpace and Facebook accounts but said his profiles had not been updated for some time and there had been no response to messages sent through the websites.
Mr Alexandrowicz began writing fan letters from prison in 1976 and continued to do so for 12 years.
"His letters are just extraordinary. They're beautiful, they're profound, they're witty, they're poetic," said Ms Fullerton.
The pair became pen-pals and close friends but they never met. In 1988 Ms Fullerton lost track of him.
Mr Alexandrowicz was born in Manchester and brought up in Nelson, Lancashire.
Following a visit to the Soviet embassy in London in 1970, where he was trying to trace his Ukrainian grandparents, he was photographed meeting a Russian spy who was later deported.
Mr Alexandrowicz later served 22 years of a life sentence for aggravated burglary - a crime he claims he did not commit.
"It seems to me that because Alex was photographed with this man they assumed incorrectly that he was a spy working for the Russians, he was found guilty of a crime he didn't commit, and was given an extraordinarily lengthy sentence," said Ms Fullerton.
She is appealing for anyone who knows the whereabouts of Mr Alexandrowicz to get in touch with her.