Gloucestershire bus route redesign needs feedback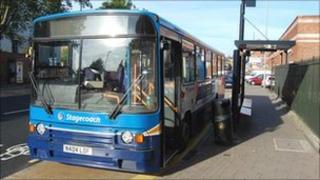 Bus users in Gloucestershire are being asked to comment on plans to redesign the county's subsidised bus network.
The Conservative-run county council, which financially supports more than 140 bus services, is looking to cut £2m from its budget by 2013.
Plans include a new "hub and spoke" system and stopping some services.
Councillor Stan Waddington said it would be one of the biggest changes to the bus network the county had ever seen.
"The bottom line is that we cannot afford to continue subsidising services that are poorly used and could be better served by other means," he said.
Last year the county council revealed the 666 service from Newent to Ross-on-Wye was so highly subsidised it cost up to £46 for a return journey.
The average cost of the 20 highest subsidised journeys is a £15 return.
A consultation period, beginning on 16 May, will invite feedback via comments online, questionnaires and a roadshow visiting 23 locations.