Gloucestershire council cabinet to be slimmed down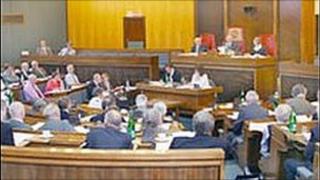 The cabinet team on Gloucestershire County Council is being slimmed down to help cut costs.
From Wednesday, the number of members will be reduced from 10 to eight.
Some of the most experienced politicians will instead head up short-term projects, described as "time-limited champion roles".
Mark Hawthorne, leader of the Conservative-run council, said the changes would "save taxpayer money and still get the job done".
Five new champions are being created to take charge of special projects in education, highways, waste, "big community" schemes and change.
There will be a capped allowance for the role, which will end when a project is complete.
The overall change is expected to save the equivalent of one cabinet member's allowance (£17,599), increasing to two cabinet members' allowances in future years, the Conservative group said.
Mr Hawthorne said: "This is part of the overall Conservative plan to cut the cost of councillors, by freezing allowances, cutting the number of councillors and totally rejecting plans for taxpayer-funded pensions."