Olympic flame to visit Cheltenham in 2012 torch relay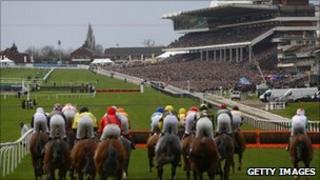 The Olympic flame is to visit Gloucestershire as part of its route to the London 2012 Games.
The torch arrives in the UK from Greece on 18 May 2012 and the 70-day relay starts at Land's End, Cornwall, before visiting Cheltenham on 23 May.
Full details of the route will be announced next year but organisers say 95% of Britons will be within an hour's journey of seeing the torch.
A nomination process will be used to pick the 8,000 torch-bearers.
The flame is due to arrive in London the weekend before the start of the games on 27 July.
County councillor Paul McLain, who was part of the Cheltenham bidding team, said: "It's fantastic news. It will really put Gloucestershire on the map.
"Over the next few months we'll be trying to get out various ways that young people can get involved."
"We'll be looking for various stop-off events during the day on the route, maybe in some of our rural villages or market towns."
Exact details of the event are still to be revealed, but Cheltenham's bid included plans for a major festival at the town's famous racecourse, featuring jazz, science, classical music, literature and horseracing to mark the occasion.
Racecourse managing director Edward Gillespie said: "The fact that we will have a day of it in Gloucestershire in terms of the Olympic torch is an enormous thrill, the route through Gloucestershire will be fantastic."