Cheltenham bin collection move sees 'waste on streets'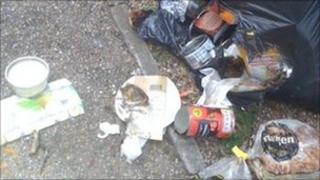 Changes to Cheltenham's bin collection service have led to smelly food littering the town's streets, according to residents.
In April household collections moved from weekly to fortnightly, and a weekly food waste collection began.
Residents in some parts of the town say roads have become strewn with rotting waste and ripped open bin liners.
A spokesman for Cheltenham Borough Council said people were not using the bins correctly.
Account executive Emily Mills, 23, who lives in a flat on Lansdown Crescent, said: "We've got so much rubbish. It's getting ripped apart, it's getting piled up in the streets.
"I believe some people [from neighbouring flats] are tipping into other people's bins. Something's got to be done."
Councillor Roger Whyborn, cabinet member for sustainability at Cheltenham Borough Council, said the biggest problem was the use of bins at properties that have been sub-divided.
"The rubbish collection is working very well in most areas but there are some problems with some of the flats," he said.
"The problem seems to be where people have large communal bins. It's nobody's job to look after the situation."
The council said residents could ask to be given more recycling boxes if they were needed.
"There is really plenty of room [for rubbish to fit inside bins] if people separate their rubbish out," said Mr Whyborn.
He added that the council would be talking to landlords to help educate residents on proper use of the bins and recycling containers.