Cheltenham's Imperial Square regeneration plan outlined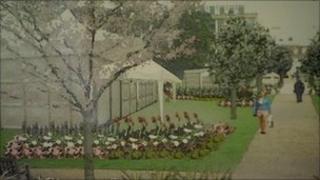 Plans have been outlined to spend £140,000 regenerating one of Cheltenham's best known public spaces.
Liberal Democrat councillor Roger Whyborn said the "affordable" investment was "worthwhile for the whole town".
Imperial Square started life as an exclusive garden for spa patrons but is now mainly used as a festival venue.
The new plans include tree-lined avenues, a seating section for visitors, a paved area and a pond.
The proposals are on show at the borough council offices until 24 June and are also available online.
"The gardens have been here for some while," said Mr Whyborn.
"They've taken a bit of a pasting with the use they've had over the last few years, so we're going to rejuvenate them."
Mr Whyborn added that the improvements would also enable more marquees to be put up during the town's outdoor events.
'Floral grandeur'
The gardens, which opened in the mid-19th Century, were described as "an ornamental pleasure ground".
"First impressions are very positive," said David Stennett from the Friends of Imperial Square and Gardens about the new plans.
"We feel that the visual images we've seen, and the floral grandeur which is shown on them, will make Cheltenham proud of what the council have tried to do for us.
"I'm sure that the finished article will look really nice."
The Friends of Imperial Square and Gardens group is also raising money to put back the park's original railings.
"That's a big, big project," added Mr Stennett.
"We're applying for charity status and we think we'll get it.
"We'll go ahead then to make sure the railings are restored and the people of Cheltenham can be proud of those as well."