Gloucestershire artists save hospital artwork displays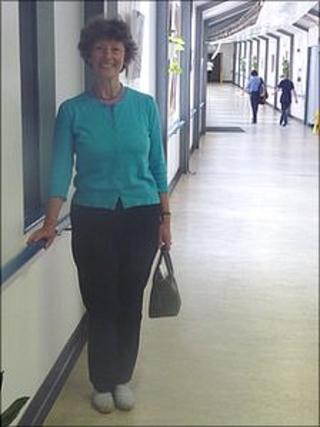 An initiative to display artwork in two Gloucestershire hospitals has been praised for its "enormous benefits".
Since January, the Cheltenham Open Studios (COS) group has maintained a rolling exhibition of work at the hospitals in Cheltenham and Gloucester.
Irwin Wilson, from Gloucestershire's NHS Trust, said the partnership hugely benefited the environment for patients, visitors and staff.
Artists are loaning their work for free and hanging new pieces once a quarter.
Arabella Kiszely, chair of COS, said the group was "horrified" to learn that artworks might disappear from the hospital's walls after the Arts in Trust programme lost its funding.
The group volunteered to manage the exhibitions because it is "committed to promoting the visual arts in the area".
"I was in the Link Gallery in Cheltenham General Hospital the other day and it was encouraging to witness the number of staff, patients and visitors who stopped to look," she said.
'Win-win'
Artwork is on display in the Fosters Gallery and main atrium of Gloucestershire Royal Hospital and in the Link Gallery and Star Gallery at Cheltenham General Hospital.
Mr Irwin said working with COS had allowed the promotion of the arts in our hospitals to continue.
"It's a partnership that offers a dynamic and changing programme, one that also helps to develop the relationship with our local community," he added.
"Without COS our collections would simply deteriorate. It's a win-win situation."