Death of baby Holly Agius 'compounded by methadone'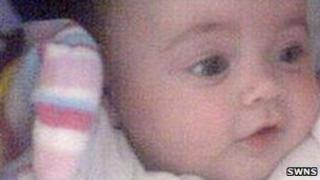 The death of a toddler from the Forest of Dean was compounded by her being given methadone, a coroner has ruled.
Holly Agius, aged 14 months, died at Gloucestershire Royal Hospital after being admitted on 12 January 2009.
Her mother Bonny Richards, of Broadwell, and Richards' partner John Davies were jailed for child cruelty.
Recording a narrative verdict at the inquest in Cheltenham, the coroner found Holly had died from bronchial pneumonia and chickenpox.
But it was compounded by her being given the heroin substitute methadone, the coroner said at Wednesday's hearing.
Richards, then 28, was jailed for 15 months and Davies, then 32, of Scowles in Gloucestershire, was jailed for 18 months in July 2010.
They had both admitted three counts of child cruelty towards the little girl in June last year.
Bristol Crown Court heard the pair gave her methadone over a six-month period to try to soothe her.
The coroner found the drug, which the couple both had on prescription, had played a part in Holly's death but so did the fact that she was not given any medical treatment as her illness developed.
He said it was not possible simply to give a verdict of natural causes in view of the surrounding circumstances.
Methadone is a synthetic drug commonly prescribed to help overcome heroin addiction.