Gloucester man cleared of murdering baby daughter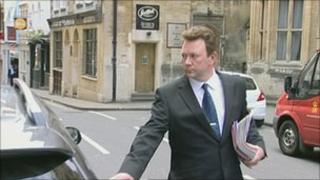 A Gloucester man who said he was suffering from post-natal depression has been found not guilty of murdering his baby daughter.
Architect Mark Bruton-Young, 36, from Quedgley, was accused of killing six-month-old Harriet by smothering her between 25 June and 28 June last year.
Bristol Crown Court heard during the trial that Mr Bruton-Young "could not face up to life as a father".
Mr Bruton-Young had denied a charge of murder.
His two-week trial heard how Harriet was found dead in her cot at the end of June 2009 at the home he shared with his wife Clare in Woodvale.
A post-mortem examination failed to establish the cause of death.
The couple declined to comment as they left court after the verdict.
'Received counselling'
It had been alleged that Mr Bruton-Young started scouring the internet in January 2009 looking for ways of getting rid of the baby.
The prosecution said that information gathered from Mr Bruton-Young's work computer showed that he initially searched for advice on bonding, depression and fatherhood.
In the weeks leading up to his daughter's death, Mr Bruton-Young was alleged to have begun to search for terms such as "signs of deliberate suffocation" and "how quickly can a baby suffocate?".
The court heard Mr Bruton-Young had received counselling and was seeing a health visitor in the six months after Harriet's birth.
He told jurors he was concerned that he would accidentally hurt Harriet, but stressed: "I would never harm her deliberately."
He said he had contemplated having Harriet adopted, "to give her a better life", but insisted he loved her.
A spokesman for Gloucestershire Police said after the verdict: "The police treat all sudden and unexpected deaths in infants very seriously and work closely with other agencies and key professionals in order to thoroughly investigate each case.
"The evidence that was gathered in this case was carefully examined and referred to the Crown Prosecution Service, who subsequently decided that Mark Bruton-Young should be charged and the evidence brought in front of a jury."