Canal boat ministry comes to Worcestershire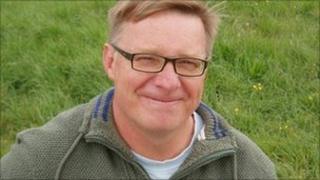 A Church of England vicar has brought his unusual ministry to the waterways of Worcestershire.
The Reverend Mark Walker, 42, lives aboard his narrow boat, the Juliana, providing 'ministry on the move'.
The boat has been specifically designed with an area that can accommodate prayer groups and church services.
He has already led a full life as a priest, pilot, army officer and adventurer.
Dream job
Mr Walker said the idea for basing his ministry on a canal boat came to him while he was asleep.
"I literally started dreaming about narrow boats - I'd never been on one in my life.
"I then did some investigation using the internet and other things like that, contacted a few people I knew, read some books and then put a proposal together," he said.
He is licensed by the vicar of Gloucester to minister in and around Gloucestershire, but is extending his travels to take in Worcestershire, Avon, Oxfordshire and Berkshire.
The name of his 57ft (17m) boat is also carefully chosen.
"Juliana is named after Julian of Norwich, the Latin name, which is where I had my calling, on Easter Sunday 2002, so I thought that was appropriate," he said.