Cheltenham brothers near end of charity trek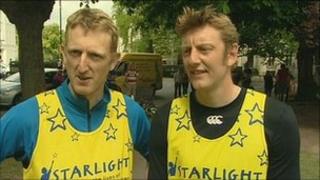 Two brothers from Gloucestershire have made it to their home town as they near the end of a feat of endurance.
Rich and Dave Cooper cycled from Lands End to John O'Groats and are running all the way back - the equivalent of more than a marathon every day.
The pair ran into Cheltenham on Saturday and hope to finish on Friday raising some £20,000 for the children's charity, Starlight.
Both said the adventure had challenged them mentally and physically.
Dave Cooper said: "There's been a lot of low points and to keep going day after day after day.
"I've broken every barrier mentally and physically."
Rich Cooper added: "The injuries have been a real struggle. I ended up in hospital having some X-rays - Dave's had infected blisters, its been really hard."