Army vet from Cheltenham 'loves Afghanistan challenge'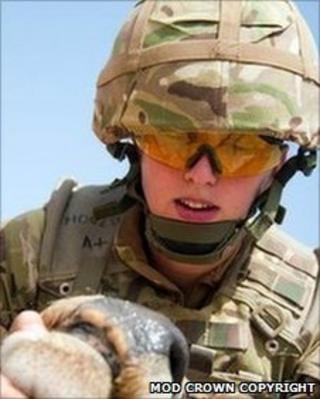 A British Army vet from Cheltenham on a six month tour of Afghanistan has said she "absolutely loves" the challenge.
Capt Laura Holmes, 29, is working in Helmand Province as a member of the army's veterinary engagement team.
Her work involves running veterinary clinics for local farmers, treating mainly cattle, sheep and goats.
Speaking from her base in Lashkar Gah, the capital of Helmand Province, she said "it really feels like I'm making a difference".
A typical day involves cases "pretty much the same as at home - fertility problems, feet problems and mastitis problems, but trying to deal with that whilst wearing body armour in 40 degree heat is quite a challenge," she said.
'Dangerous'
The former Cheltenham College student said she had wanted to be a vet since she was little and carried out work experience at the Dragon Veterinary Centre in Cheltenham from the age of 13.
She also gained veterinary experience "all over Gloucestershire" at places such as the Cotswold Farm Park, before going on to study veterinary medicine at Edinburgh University.
She joined the Royal Army Veterinary Corps after completing her officer training at The Royal Military Academy Sandhurst.
"Of course it's dangerous," she said. "But I'm always going to areas where we feel it's appropriate to be and the soldiers out here are put in place to look after me, so I don't have to worry about my security.
"I can focus on being a vet. There is always a threat but I don't need to worry about that."
Capt Holmes is due to complete her tour of duty and return home to Cheltenham in September.