BBC Introducing returns to Wychwood Festival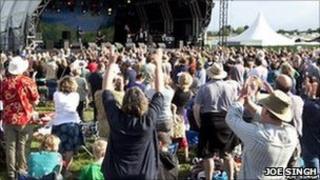 Bands from Gloucestershire and surrounding counties are once again set to showcase their talent at the 2011 Wychwood Festival.
The music festival, which takes place in Cheltenham, has teamed up with BBC Introducing to give artists the chance to play the Introducing stage.
Following a shortlisting process, 27 bands in total will be playing.
Those playing from Gloucestershire are Pink Crudge Caravan, Swift Manouvre, Black Canvas and Charlie Baxter.
Other regions taking part are Bristol, Warwickshire, Herefordshire, Worcestershire, Oxford, Wales and Wiltshire.
Each local Introducing show submitted 10 bands or artists and they were then shortlisted by a panel of music journalists, which included Tom Robinson, who presents his own Introducing show on BBC 6 Music.
Other local up-and-coming bands and performers, including The Hundees, The Me! Me! Me's?, Ellie Dussek, Joe Summers, Emmett Brown, Midnight Mile, and The North Ship will also be playing the University of Gloucestershire's 'Pomme Stage' stage over the weekend.
Wychwood Festival runs from Friday 3 - Sunday 5 June, 2011.