LISTEN LIVE: The Wychwood Festival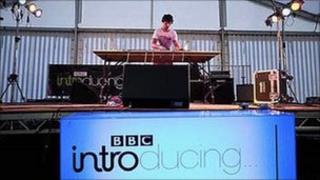 Listen to live streaming from the BBC Introducing stage at the Wychwood Festival, Cheltenham.
Bands from Gloucestershire and surrounding counties are once again showcasing their talent at the festival.
The music festival, which takes place in Cheltenham, has teamed up with BBC Introducing to give artists the chance to play the Introducing stage.
Following a shortlisting process, 27 bands in total will be playing over the weekend.
Those playing from Gloucestershire are Pink Crudge Caravan, Swift Manouvre, Black Canvas and Charlie Baxter.
CAUTION: These live streams may contain strong language.
Line-up:
Friday 3 June
5pm: The 7.20s (Nominated by BBC Coventry & Warwickshire)
6pm: Milly Winter (Nominated by BBC Coventry & Warwickshire)
7pm: Voodoo Kings (Nominated by BBC Coventry & Warwickshire)
8pm: The Suit Corps (Nominated by BBC Coventry & Warwickshire)
9pm: Black Canvas (Nominated by BBC Gloucestershire)
Saturday 4 June
11am-11.30am: Pandas and People (Nominated by BBC Hereford & Worcester)
11.45am-12.15pm: Jessie Grace (Nominated by BBC Oxford)
12.30am-1pm: Black Hats (Nominated by BBC Oxford)
1.15pm-1.45pm: Secret Rivals (Nominated by BBC Oxford)
2pm: Alphabet Backwards (Nominated by BBC Oxford)
3pm: Swift Manouver (Nominated by BBC Gloucestershire)
4pm: The Method (Nominated by BBC Wales)
5pm: Cuba Cuba (Nominated by BBC Wales)
6pm: Alice Jemima (Nominated by BBC Bristol)
7pm: Lonely Tourist (Nominated by BBC Bristol)
8pm: Urusen (Nominated by BBC Bristol)
9pm: Dub Mafia (Nominated by BBC Bristol)
Sunday 5 June
11am: Tim Gilvin (Nominated by BBC Wiltshire)
12pm: Anchor and the Wolf (Nominated by BBC Wiltshire)
1pm: Sam Brookes (Nominated by BBC Wiltshire)
2pm: AJ (Nominated by BBC Wiltshire)
3pm: The Keys (Nominated by BBC Wales)
5pm: Charlie Baxter (Nominated by BBC Gloucestershire)
6pm: Pink Crudge Caravan (Nominated by BBC Gloucestershire)
7pm: Carly Dee (Nominated by BBC Hereford & Worcester)
8pm: Disco Caviar (Nominated by BBC Hereford & Worcester)
9pm: Tallulah Fix (Nominated by BBC Hereford & Worcester)