Olympic boost for Cheltenham synchronised swimming club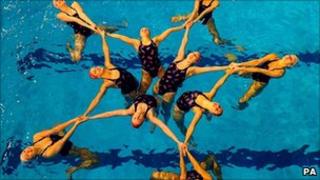 A synchronised swimming club in Gloucestershire says it needs more coaches to keep up with demand ahead of the Olympics.
Organisers at Cheltenham Synchro said they were experiencing a surge in interest ahead of London 2012.
Head coach Sarah Pullen said the club's membership of more than 50 was "the biggest it has ever been".
She said the good progress made by the Great Britain squad was rubbing off on clubs around the country.
For Cheltenham Synchro, part of the Cheltenham Swimming and Waterpolo Club, there has been a 50% growth in membership in the last year.
Team captain Eleanor Hambridge, 15, who has been in the team for five years, said: "It covers lots of different aspects - swimming, dance, gymnastics and a bit of ballet as well."
'Capacity to grow'
Ms Hambridge said the sport was a "good way to socialise and have fun" with health and fitness benefits.
But as demand increases, so does the need for help and Mrs Pullen said she was determined to see the club thrive.
"We've got the capacity to grow quite a bit more providing we've got the coaches.
"We're competing nationally at the end of the year and in order to keep all three teams entered into the competition we really need some experienced coaches to help us do that."
The club currently has two experienced synchronised swimming coaches but is looking to recruit another two.