Forest of Dean freeminers depicted in church window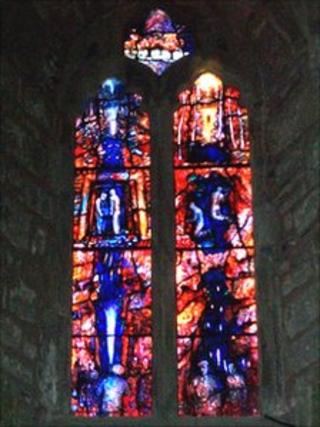 The work of the freeminers in the Forest of Dean can be seen in a new light at a church near Mitcheldean.
It is all thanks to a new stained glass window which has been placed in St Michael's church at Abenhall.
The window, which which taken over two years to complete, simply illustrates the working life of the freeminers.
Jonathan Wright, secretary of the Freeminers Association, said it is "nice to remind people that it is a continuing tradition".
"I think it's really good for the freeminers to feel that they have contributed to the church," he added.
'Real beauty'
The top of the window depicts the surface of the earth with a coal heap illustrated and an entrance to an iron mine.
Further down the window are underground scenes of traditional freemining methods.
Sue Lewis, a church warden from Mitcheldean who is associated with the church at Abenhall, said the design "has turned a plain glass window into something of real beauty".
The window, which is 7ft (2.1m) high, was dedicated on Sunday by the Bishop of Tewkesbury, the Right Reverend John Went.