Police investigate racist abuse at Cheltenham takeaway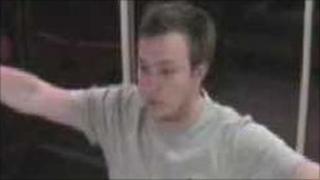 Police in Gloucestershire have released images of a man they want to trace following reports of racial harassment at a takeaway restaurant.
A police spokesman said the man they were looking for "spat on the building and threw food on the windows".
The first incident at KFC in Cheltenham took place at 0300 BST on Thursday 2 June, with the second at roughly the same time the following morning.
Officers have asked anyone with any information to contact them.