Gloucestershire Hospitals Trust confirms 250 job losses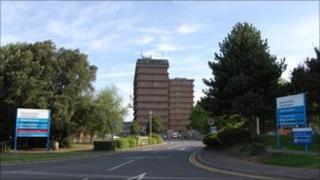 Gloucestershire Hospitals NHS Foundation Trust has confirmed about 250 jobs are to go as it tries to cut costs.
In February the trust announced it needed to make efficiency savings of 4% by the end of the current financial year.
Chief executive Dr Frank Harsent has confirmed £20m savings need to be found before the end of March.
The trust runs hospitals in Cheltenham and Gloucester.
'Too many variables'
Dr Harsent said: "We think we've got to lose something of the order of 250 posts.
"We can't be precise because there are too many variables such as no mandatory retirement age now, and we can't predict how many people will move to other jobs out of the county."
It is anticipated the majority of the job losses will be found through natural turnover and retirements, transfer of roles into community-based care, and making the best use of the skills of existing staff.
"The aim is that patients won't see any changes," said Dr Harsent.
"We won't be taking any nursing staff off the wards because we don't think that's appropriate, but we do believe there are lots of different ways we can reorganise and do things differently to save money."
Kim Ypres-Smith, chairman of the Gloucester branch of Unison, said: "People are sad and while there's uncertainty that's going to make people feel anxious about the whole exercise, but we've been assured that this 250 is not going to translate into compulsory redundancies.
"We will be very keen to see the trust keeps that promise."
She said there was "a degree of relief" as initially figures of several hundred jobs had been mentioned.