Charlton Kings meeting over bus service cuts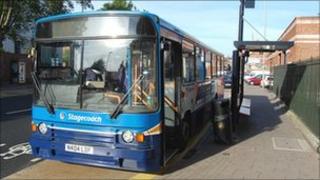 Proposals to cut bus services in a part of Cheltenham are to be discussed at a public meeting later.
Residents in Charlton Kings have said they were not properly consulted over plans, in which late services would be reduced to Fridays and Saturdays only.
A Gloucestershire County Council spokesman said it was not practical for consultation events to be held in every parish.
The parish council is hosting a meeting at the Stanton Room at 1930 BST.
Parish council chairman Martyn Fry said it was "shocking" that no roadshow had been arranged in Charlton Kings.
"We had to act for our residents to get the facts of these devastating cuts and be able to respond, before the deadline," he added.
Reg Beagley of the Charlton Kings Public Transport Forum said: "It is so complicated I can't really take it all in, it's beyond belief, it appears that we lose our link to the hospital and the railway station."
'Chance to speak'
Philip Williams, the county council's passenger transport and parking manager, said: "We're very pleased that Charlton Kings Parish Council is holding this event to help people take part in our bus review.
"Letters were sent to all parish councils in Gloucestershire to inform them of the review and ask for their support in publicising the consultation so as many people as possible could take part.
"Altogether 32 roadshows were arranged to take place around the county to ensure people had a chance to speak to a council officer face to face and ask any questions.
"However it is not practical for a roadshow to be held in all 264 parishes, which is why we have asked parish councils to support us."
Cuts of £2m need to be made to transport services as part of a cost-cutting exercise.