Forest of Dean hosts first of advisory panel visits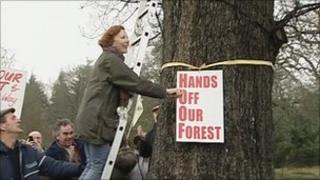 The Forest of Dean has hosted the first official visit by a special panel set up to advise the government on the future of England's woodlands.
The task force was created after the coalition abandoned plans to sell off state-owned woods after public outcry.
Members met businesses and communities dependent on the Forest of Dean for their livelihoods.
Chairman - the Right Reverend James Jones, Bishop of Liverpool - promised the panel would listen to concerns.
He said: "The requirements of the people are different.
"The timber industry needs one thing, those who are committed to biodiversity need another.
"Those who believe in the importance of the forest for climate change also have requirements and one of the things the panel will need to do is balance all these particular interests and demands."
Peter Hands, owner of the Speech House Hotel near Coleford, said: "I hope the panel will listen and that the politicians listen because there is a great sense of caring and dedication by the local people to their forest."
The Independent Panel on Forestry, funded by Defra, includes representatives from the Ramblers, the Woodland Trust and the Forestry Commission.
It is also due to visit Northumberland, Kent and London.