Compost plant bosses deny failing to stop smells sooner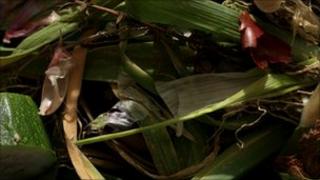 Bosses of a composting plant in Sharpness have denied they failed to act sooner to prevent it from giving off putrid smells.
New Earth Solutions (NES) temporarily stopped processing waste earlier this month after complaints from locals.
Environment Agency tests showed odour was above acceptable levels.
NES operations director, Peter Mills, said he was confident the introduction of a new odour reduction system would lead to a "significant improvement".
"The increasing amount of food waste that we are recycling requires the odour abatement system to be significantly re-engineered and upgraded," he said.
'Deep clean'
"The most effective way of doing that was to suspend operations at the plant, to undertake a deep clean, to re-engineer the treatment system before then resuming operations."
The plant, which opened in 2008, takes in more than 100,000 tonnes of food and garden waste every year.
Previously the company had extended the height of the plant's chimney and introduced emissions controls in an attempt to reduce the unpleasant smell.
Stuart Baker from the Environment Agency said he was aware of residents' concerns.
"We are aware there is a problem and I can understand the frustrations," he said.
"We have made it very clear to the company that they must sort this out once and for all.
"If they don't we have made it very clear that we will use our enforcement powers, and that may be to either suspend or revoke the permit."
The plant is expected to re-open later this summer after improvements have been made.