Vision for Tewkesbury's future revealed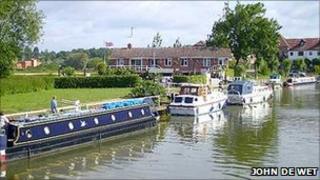 Plans to make the most of the riverside, encourage growth and improve accessibility and safety have been identified for Tewkesbury.
The Conservative-controlled borough council had asked residents and businesses for ideas to shape the town's strategy for the next 20 years.
A spokesman said the master plan would set out options for the town.
The draft proposal plan for the town will be completed by the autumn and followed by public consultation.
The initial consultation which took place in 2010 identified that the riverside was an underused asset with enormous potential.
It also suggested better marketing of the town and encouraging investment.
"A key area of work is already under way, as the development of a new safety scheme for Tewkesbury High Street has started and due to be completed by Spring 2012," a borough council spokesman said,
"The Tewkesbury High Street Safety Scheme, which is being delivered in partnership with the county council, incorporates principles of good urban design as well as measures to reduce air pollutants as part of an air quality action plan.
"This will help make Tewkesbury cleaner, greener, safer and more attractive for all."