£2.25m in Gloucestershire planning cash still 'unspent'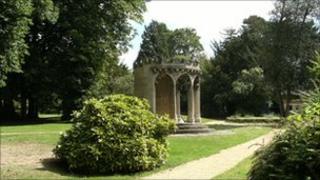 At least £2.25m set aside for community projects in Gloucestershire has still not been spent, the BBC has learned.
The "section 106" cash is given by developers who are granted permission to build in the county, to provide services and infrastructure nearby.
A Freedom of Information (FOI) request shows that Gloucester City has £1.5m which has not yet been spent and the Forest of Dean - more than £750,000.
Cotswold District Council said it had spent all the money it had received.
Stroud District Council did not release its figures following the Freedom of Information request.
Cheltenham said it would release figures, while Tewkesbury's information did not contain details of money that had been left over.
In Gloucester, Friends of Hillfield Gardens have applied for section 106 cash to fund repairs to a chapel and make other improvements at the Victorian park.
Member, Julia Hurrell, said: "[It's] little things like the information boards.
Limited resources
"My understanding is that the graphics for those were drawn up some years ago, but they just haven't been made.
"So it is frustrating that - and it's a lack of understanding why therefore - they haven't been put up."
Paul James, leader of Gloucester City Council said: "There are lots of calls on the staff we have - landscape architects and the like - for the projects.
"So basically, you have to wait your place in the queue while we have limited resources, but once the money has come in there is no reason why that can't be spent, apart from having the physical resources to do all the work."
A statement for Forest of Dean council said: "Some of the money is being paid in instalments.
"Money is paid to town and parish councils when they have provided detail of an appropriate scheme with costings.
"Money for affordable housing may be held longer term to help subsidise the provision of housing as and when schemes come forward."