Gloucester music project intrigues Stephen Morris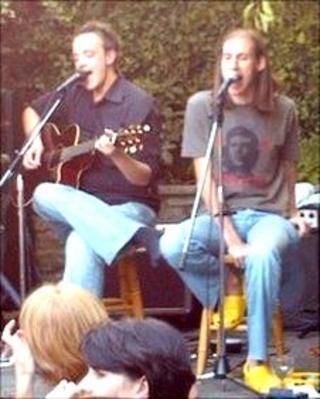 Back in April 2004, three young men met in The Bumble Bee, Quedgeley, to sup beer and talk music.
The conversation threw up all kinds of other subjects too: rugby, Star Trek and Dutch art. Naturally. It's what pubs were built for.
Now, some seven years later, two of those men are still writing and playing songs.
The other one still spends much of his time hunched over a keyboard analysing song lyrics and comparing bass lines to Arctic Monkeys riffs.
You can probably guess who one of them is.
As for the other two, they are guitar duo Dan Harris and John de Gruthyer. They've gone through a couple of band names now.
First they were The Colourful Fan. Then they were Crimson Flight. Now they are simply Harris and de Gruthyer.
Together, Harris and de Gruthyer have started a new music project, Souled Sounds.
They want to use it to promote their own music and help others too.
Over the course of a telephone interview John de Gruthyer explains where the project came from.
"It's got to the stage where we really want to pull our fingers out with the music we've been doing ever since we were teenagers," he said.
"We want to use Souled Sounds to get our songs out into the world; maybe establish ourselves as song writers and get other people to sing our songs."
Older and wiser
It's a scheme that's definitely paid off for some.
For example, Ben and Jason were hardly the most famous musical duo in music's history - a huge shame in itself - but everyone knows the Martine McCutcheon song "Perfect Moment", which that duo penned.
"Hopefully the songs we've written lately reflect us and the way we're moving on," added De Gruthyer.
"They're about getting older - and hopefully wiser. A lot of the songs are about struggling to comprehend the world around us.
"The songs are often about darker things, but we always try to bring them back to an optimistic view.
"We've got an underlying love of optimism: that there should be hope in the world."
This sort of view has always been there in Harris and de Gruthyer's song writing.
The duo, under whichever name they were using, were always sensitive souls, exploring the meaning of things.
Now, older and - yes - wiser, these themes are more pronounced.
It's not surprising when you take into consideration the changes both Dan Harris and John de Gruthyer have encountered lately.
John and his wife now have a 15-month-old and Dan and his girlfriend are just weeks away from the birth of their first baby too.
True to the traditions of their previous incarnations, as some of the old themes keep returning.
"Yeah," said de Gruthyer, "there's a lot of reference to nature and the elements in our new songs - you'll be pleased to hear. We tend to dwell on the Nick Drake side of things."
The new songs come out, in part, from a desire to return to a more stripped back style.
"We're trying to return to the sort of sound we had [in 2004] as The Colourful Fan. Lose the orchestration. Make things simpler."
'Vibe'
So does that mean a return to the stylistic territory of The Loving Spoonful and Ocean Colour Scene?
"Yes. It's very much the same kind of vibe," said de Gruthyer.
"We found the process of writing and recording songs back then more enjoyable than later when we did the Crimson Flight stuff. But the harmony and the melody remain the most important things.
"We've got four, five, maybe six songs which we'll be putting on our website and MySpace account shortly."
And what are they called?
"We've got one called 'Frustration House', there's another one called 'Long Day Shadows' and we've got 'England's Angry Skies' too.
"Once we're happy with them, we'll be putting a CD out as well."
Harris and de Gruthyer may want to "pull their finger out" but they're happy to take their time about it.
"We're having to negotiate between busy schedules - what with Dan and the baby and everything," he said.
"We haven't got any plans to gig at the moment, for example, but once we've got everything sorted out, we'd love to do a launch gig for our CD.
"We just want to keep writing and promoting our music in whatever way we can."
It sounds like the pair's domestic and musical lives are going to be fairly busy for a while to come yet.