Summer solstice sunrise swim takes place in Cheltenham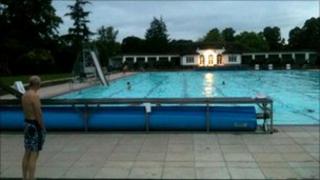 Seventy people have taken part in a summer solstice sunrise swim at Sandford Parks Lido in Cheltenham.
The intrepid swimmers took to the water at 0445 BST to celebrate the longest day of the year.
It was the first time the open-air pool had opened its doors for such an event on the summer solstice.
Swimmer Julie Roberts, said: "It's lovely - absolutely gorgeous. There's a bit of a party atmosphere going on and plenty of people here. It's great."
Lido manager Keith Norris said: "It seems a ridiculous time in the morning but it's quite good fun when you're up and in here.
"Everybody is enjoying themselves. I can't believe it, they're crazy."
In December Sandford Parks Lido had to cancel its traditional Christmas Day dip because of fears that breaking the ice would damage the pool.