Mug sells for £82,000 at Cheltenham auction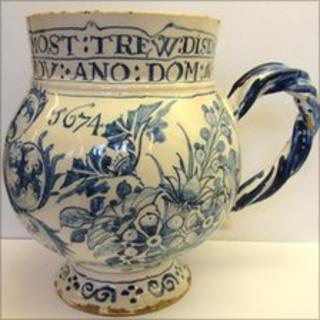 A 17th Century mug that was found in a Gloucestershire farmhouse has sold for £82,000 at auction.
The London Delft ceramic mug, which dates from 1674, was expected to fetch between £5,000 and £7,000 at the auction in Cheltenham.
It was spotted by Cotswold Auction Company auctioneer Lindsey Braune at the house in South Cerney.
She said its distinguishing features - the date, initials and livery shield - made it "extra-special".
Ms Braune said bids had been made in the auction room, on the telephone and online by would-be buyers from places including the USA, London and Gloucestershire.
She said the mug would go overseas after being purchased by an individual who had been in the sale room on Tuesday.
'Auctioneer's dream'
"I knew it was going to be quite a bit but we weren't expecting that much," Ms Braune said.
Ms Braune said the mug, which features the armorial shield of City of London livery company the Worshipful Company of Salters, was "an auctioneer's dream".
It also has the initials W and RW, and could have been given to a liveryman as a wedding present.
"The contents of a house were for sale at auction and I was doing an inventory," said Ms Braune.
"I saw it at the back of a China cabinet, pulled it out and said to the family, 'I think I will take this away for research'. They were really surprised.
"Due to the initials, it's quite possible it's been in the same family for three-and-a-half centuries."
Ms Braune said the mug was in "immaculate condition" for its age, with just a few chips on the tin rim.
"You don't find Delft like that in that condition," she said.