Lydney pupils use town model to help regeneration plans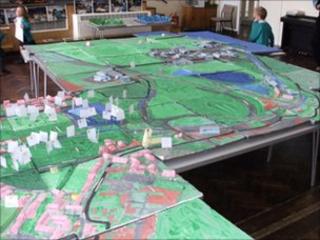 School children in the Forest of Dean have used a giant model of their town to offer ideas for its improvement.
Pupils at Severnbanks Primary School in Lydney are using the polystyrene model to say what they dislike about where they live and what they would change.
Their comments will be recorded by the Forest of Dean District Council as part of a consultation on how the town should be given a complete facelift.
Cocktail sticks were used to pin ideas to various locations across the model.
Patrick Molyneux, leader of the Conservative-controlled council, said the model "brings Lydney and the consultation process to life".
"It's a simple way for people to write what they think is needed and where," he added.
The Lydney Area Action Plan, led by the council in partnership with other local organisations, aims to improve the local economy and the connection between the town and its historic docks.
Ideas and suggestions are being invited from the community through various events in June and July.