Next founder George Davies convicted of drink-driving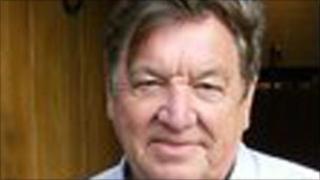 The founder of fashion chain Next and George at Asda has been convicted of drink driving.
George Davies, 69, denied the offence and told Worcester magistrates he had drunk Drambuie with a migraine tablet on his driveway just before his arrest.
Davies, from near Moreton-in-Marsh, Gloucestershire, was also found guilty of failing to stop for police.
He was fined £1,000, given a one-year driving ban and ordered to pay a £15 victim surcharge and £965 in costs.
Davies told the court he was fit to drive when he left a restaurant in Broadway, Worcestershire, in the early hours in May last year.
He said he drank the liqueur after driving a Maserati on to his land at the end of a five-mile police pursuit through the Cotswolds.
'Not credible'
Liverpool-born Davies had denied drink-driving and failing to stop, saying he had carried on driving because he feared he could be attacked or held for ransom.
He told the court: "Just because you have got a blue light behind you doesn't mean it's the police force."
Davies told the court he took two swigs of Drambuie with a tablet after his car entered his driveway, meaning he was on private land and would not have broken drink-drive laws.
"The minute they (the police patrol) came off the road and on to my land, I obviously knew then it would have to be me they wanted to talk to," he said.
"I immediately opened my door and, much to my surprise, he (a police constable) got me by the two lapels and used absolutely foul language."
Chris Bull, chairman of the bench, said Davies' version of events was not credible.
Finding him guilty of both charges, Mr Bull said: "The failure to stop adds weight to the prosecution case and we find that the account of taking a tablet and drinking alcohol whilst being followed by the police - or as you suggested a person of ill intent - is not credible while only yards from your home."
'Slightly shocked'
Police told the court Davies was apprehended after an officer threatened to smash the driver's window of the car if he did not unlock the doors.
He was taken to Worcester police station, where he was found to have 53 micrograms of alcohol per 100 millilitres of breath. The legal limit is 35 micrograms.
Following the trial, Davies said he and his lawyers would decide whether to appeal against the decision.
"You have got to stand up for your rights," he said.
"It would have been easy for me to say: 'Don't fight it', but I am a man of principles and I don't lie. I suppose I am slightly shocked."
He said he planned to continue taking his migraine tablets with Drambuie.
"It's not unusual and it works for me," he said.