Forest of Dean group wins legal case over grass-cutting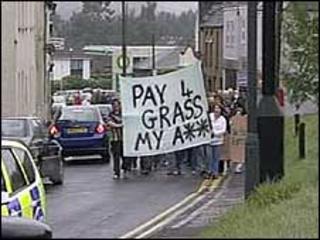 A group of campaigners in the Forest of Dean have won a three-year legal battle over grass cutting charges.
Many residents living on estates owned by the Two Rivers Housing Association refused to pay for maintenance of lawns they said were not technically theirs.
A Bristol County Court judge has ruled in their favour and ordered Two Rivers to pay their £10,000 legal costs.
The association said it would not comment until it had received the full court decision.
Two Rivers, which bought the estates from Forest of Dean Council, claimed the grass-cutting charge was in the contracts when the houses were sold.
Three years ago, more than 150 people marched through Cinderford in protest and many residents, who had little or no communal grass outside their homes, refused to pay which led to the threat of legal action.
People power
Campaigners raised more than £10,000 to fight their cause in the courts and have won.
Amanda Sterry, who lives in Ruardean, said: "I think it goes to show that people power really works and that big corporate companies can't come along and think 'you're the smaller person, you're going to do what I say'.
"If you stand together and you decide to fight, you can do it."
A statement from Two Rivers Housing Association said: "We are aware of the summary judgement and are awaiting full details of the court's decision.
"Once we have received these we will be in a position to comment further."