Dursley Training Unit closure decision to be re-assessed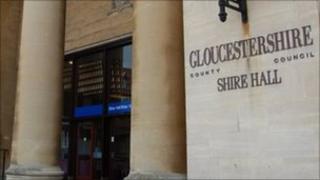 A decision to close a centre for adults with learning disabilities in Gloucestershire is to be re-assessed.
Gloucestershire County Council announced plans in February to shut the Dursley Training Unit (DTU).
Concerns were raised by one of its users over the way the decision was made. The council said it wanted to avoid an expensive and long legal challenge.
The council will now offer care assessments to all users.
The council said whilst it remained confident in the way its original decision was made "it has decided that litigation concerning this sensitive issue will add further uncertainty for people who use the Dursley Training Unit".
'Difficult issue'
Earlier this month one user, Gary Pockett, who is registered blind, suffers from epilepsy and uses a hearing aid, instructed his solicitor to challenge the decision's lawfulness.
Proposals to close the unit are part of wider cost-cutting measures announced by the council as it tries to reduce spending by £114m.
Antonia Noble, cabinet member for people with long-term support, said: "I recognise that this is a difficult issue and it is not one that would be made easier by engaging in litigation.
"A prolonged court battle would cause undue distress for users and their families whose welfare remains our priority in taking this decision.
"I have asked officers to continue to work with the people who use the centre.
"We need to be clear that all options remain open and the council's focus will be on providing the most appropriate support for vulnerable people."
The review process will begin immediately and a final decision is expected later in the year.