Gloucestershire trust begins badger vaccination trial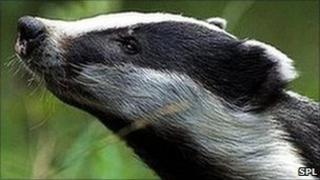 A badger vaccination trial has begun in Gloucestershire as part of a bid to stem the spread of bovine tuberculosis.
The three-month voluntary programme is being funded and carried out by the Gloucestershire Wildlife Trust.
The organisation is against government plans to cull infected animals to help control the disease.
The trust said it had paid for staff to be specially trained to vaccinate badgers against bovine TB across its nature reserves in the Stroud Valleys.
Badgers can carry the bacterium that causes the illness and transmit the disease to cattle herds.
Bovine TB led to the slaughter of almost 25,000 cattle in England last year.
Many farmers are supporting a badger cull.
'Mass eradication'
But Dr Gordon McGlone, chief executive of Gloucestershire Wildlife Trust said: "We are walking the talk and trying to change the dialogue from a cull being the only option.
"Bovine TB is a big problem but local mass eradication of one of our much-loved native animals is not the answer.
"Scientists have spent the last 12 years investigating whether killing badgers will halt this serious disease in cattle and the answer they are getting is that it could well make the problem worse."
A spokesman for Defra said: "This is a very welcome step by the Gloucestershire Wildlife Trust, which shows their commitment to playing their part in helping to tackle this terrible disease.
"There's no one solution to tackling TB and the badger vaccine we developed is one of the tools we have available."
He added that the government would be announcing a "comprehensive and balanced TB eradication programme for England" before the end of July.
Earlier this year, the National Trust said it was embarking on a four-year project, on Devon's Killerton estate, to make the case for vaccination as an alternative to culling.