Amberley Ridge School in Stroud put in special measures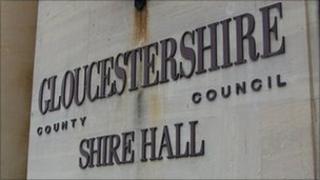 A Gloucestershire school for children with special needs has been placed in special measures following a poor Ofsted report.
Amberley Ridge School on Rodborough Common in Stroud caters for 44 pupils aged between five and 11.
The county council said many issues in the report had already been identified as needing "urgent attention" by the authority and the school.
An action plan for improvement is being enforced, the spokesman said.
The school, which caters for children with behavioural, emotional and social needs, was inspected last month. In the inspection report, Amberley Ridge was graded "inadequate" in overall effectiveness.
'Unsatisfactory progress'
The document says: "It is failing to give its pupils an acceptable standard of education and the persons responsible for leading, managing or governing the school are not demonstrating the capacity to secure the necessary improvement.
"During their time at Amberley Ridge, pupils make unsatisfactory progress in their learning.
"Although appropriate actions are now in place to address weaknesses, particularly in writing and spelling, and there are some improvements in these areas, learning remains inadequate because pupils do not systematically develop their knowledge, understanding and skills.
"Teaching is inadequate as it does not challenge pupils sufficiently or support them to learn effectively."
The report adds that the school has strengths, including that staff nurture pupils and are "very supportive" to them, and that family support enables good communication with parents and carers.
"Attendance is above average and pupils' behaviour is good," it adds.
'Priority development'
The report says the school needs to improve the quality of teaching, strengthen its leadership and management, and ensure that its aims and ambitions are clear.
Simon Cartwright, the school's head teacher, said: "We are proud that the report has identified the many strengths in our provision, particularly in areas of care, guidance and support.
"Priority development areas had already been identified by the school and work has been under way to address these."
The school is set to move to Cheltenham in early 2012. A council spokeswoman said the new site was closer to where most pupils lived.
The council described old fashioned buildings at Amberley Ridge as "outdated" and said transporting pupils there was expensive.
A council spokesman said Rowanfield Junior School in Cheltenham, which has been rated outstanding will act as a school improvement partner.
A meeting between Amberley Ridge staff, parents and carers is taking place on Wednesday to discuss the report and action plan.