Newent canal restoration plans for abandoned railway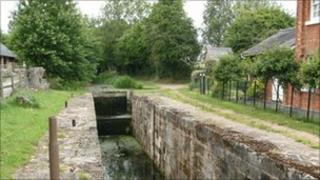 Plans have been unveiled to turn the route of an old railway line at Newent back into a canal.
Originally built as a canal, the route was turned into a railway in the 1880s. The railway was then abandoned in 1964.
The Herefordshire and Gloucestershire Canal Trust proposal to restore the waterway would see it running between the platforms of the old station.
The plan is part of an ongoing project to restore the entire 34 mile canal between Gloucester and Hereford.
Director of the Herefordshire and Gloucestershire Canal Trust, Brian Fox, said: "It's a big project, it's not something that volunteers will be doing one day a week.
"It'll be a contract job to restore the canal across the aqueduct and down to the fire station in Newent."
A nearby lock and a section of canal, as well as buildings and a canal basin, have already been restored by a team of volunteers.