Gloucestershire strike: schools and civil servants walk-out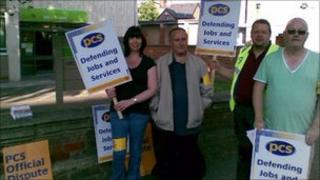 At least 142 schools in Gloucestershire were closed or partially-closed as members of two teaching unions went on strike over future pension plans.
Action was taken by the National Union of Teachers (NUT) and the Association of Teachers and Lecturers.
Civil servants also took part over the government's proposed changes.
About 150 people turned up for a rally in Gloucester Park in support of the strike action.
Members of unions including the NUT and the Public and Commercial Services Union (PCS) took part in the day of action.
Picket lines were formed in Gloucester, Cheltenham and Stroud, outside Department of Work and Pensions offices, and outside the Land Registry offices in Gloucester.
Simon Smith, a spokesman for the PCS Union, said he expected at least 350 members would take part in industrial action.
About 2,500 staff at the government listening post GCHQ, in Cheltenham, were "lending their support" but would not go on strike, he said.
Mr Smith added that members in Defra and HM Revenue and Customs also supported the strike.
At one picket line outside Gloucester job centre and the Department for Work and Pensions office in Spa Road, picketing began at 0700 BST.
Nick Bayley, branch organiser for the PCS, said most of its members went on strike, which is about 70% of the 230-strong workforce.
"We regret any inconvenience to anybody and we didn't want to go down this route at all, but we feel we have been forced into a corner by the government," he added.