Ha-ha fences to be repaired at Westonbirt Arboretum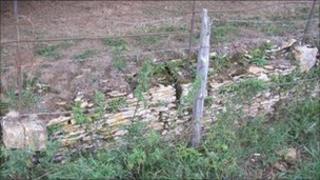 Westonbirt Arboretum has been given a grant of £40,000 to help repair historic ha-ha boundaries.
The money from Natural England will allow the national arboretum at Tetbury to begin restoring the Victorian features, which are a sort of sunken fence.
Thousands of metres of Cotswold stone ha-ha walls and railings at the arboretum are in need of repair.
Over the years many of them have disappeared or have been replaced.
'Great craftsmanship'
Sophie Nash, from the Forestry Commission, said: "Westonbirt's railings are an example of great craftsmanship and engineering and reflect the arboretum's Victorian creator Robert Holford's love for landscape design and innovation.
"Some of our railings are so distinctive in design and construction that they have baffled many craftsmen I've approached during the planning for this project."
Originally used to keep livestock out of the native and exotic tree collections, they now also act as vehicle boundaries and help to guide visitors.
The restored boundaries will allow cattle to graze on some areas, while keeping them out of other areas so species including unusual and rare wild flowers can flourish.