Gloucestershire wheelchair player to toss Wimbledon coin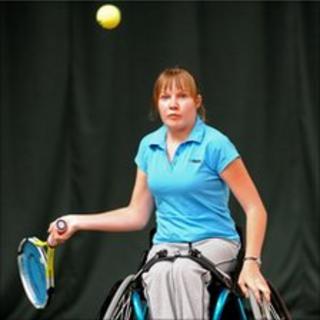 A wheelchair tennis player from Gloucestershire is to toss the coin at the Wimbledon ladies' final.
Chloe Ball-Hopkins, 15, from Wotton-under-Edge, has the muscle-wasting disease nemaline myopathy.
She was invited to help decide who serves first by tennis presenter Sue Barker, president of the Muscular Dystrophy Campaign.
Saturday's match between Maria Sharapova and Petra Kvitova is expected to attract 375 million viewers.
Chloe's love of tennis helped her make friends outside school and beat bullies.
Last year, she reached the finals of the National Junior Tennis Championship after entering for the first time.
Every year, the All England Lawn Tennis Club invites two charities to take on the coin-toss duties for the ladies' and gentlemen's singles finals.