Horton Court opened to public by National Trust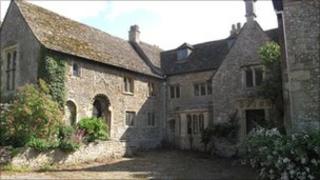 A Cotswold house which has been linked to the clergy since the 12th Century is being opened to the public.
Horton Court, near Chipping Sodbury, is built around a former manor house which includes a rare 12th Century Norman Hall.
Only the hall and gardens have been opened previously because tenants were living at the property.
The National Trust said the house, which shows more than 800 years of history, was open in July and August.
Mix of styles
Katy Smith, the trust's visitor experience manager, said: "This is very much a volunteer project - without such great help we wouldn't be able to open Horton Court this summer.
"This is a wonderful house with a long and fascinating history.
"Because it was occupied by tenants, only the Norman Hall and garden were opened.
"But now we are able to let people see a lot more by exploring the ground floor and giving them a much better understanding of how a place like this developed over the centuries."
She said the hallway had been dated to between 1482 and 1519 by analysing tree rings in the timbers.
It contains a 1520s fireplace, a survivor from the period when the house underwent significant development by William Knight.
Between 1519 and 1521 he expanded the house, adding a new well-glazed east facade, but also incorporating much of the original historic buildings, which have left Horton Court with a mix of styles and periods.
Country Life
The final development of the house came in the early 1920s when the owner - restoring the house which had lain empty during World War I - built inward into the courtyard, making some parts of the house quite dark.
Horton Court was bought in 1937 by Hilda Wills, a daughter of the Bristol tobacco family, who donated it to the National Trust in 1946.
The house has been leased since then but has been empty for the past two years while the trust explored options for its future.
It was included in Country Life magazine's top three oldest lived-in properties in the country in 2003.
Horton Court will be open on Fridays and Sundays only from 1300 to 1600 BST.