Ken Dodd sells out Everyman Theatre's opening night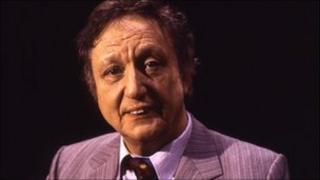 A performance by Ken Dodd at Cheltenham's Everyman Theatre to mark the venue's reopening has sold out within three hours.
The comedian will be the first act to appear on stage, on 23 September, following a £3m makeover.
Restoration work to mark the theatre's 120th anniversary in October has been taking place since April.
Geoffrey Rowe, the Everyman's chief executive, said it "went wild at the box office".
'Very popular'
About 350 seats of the 670 capacity venue had been available to the general public, following earlier sales to members.
"You wouldn't necessarily relate Cheltenham with its reputation for gentility to a northern comic, but he's very, very popular and so I'm delighted," said Mr Rowe.
"He will be the first person to stand on the stage when we reopen after our restoration."
"[When booking the opening night's performance] I rang him up and I talked to the great man himself. He said '120 years old, that's even older than me.'"
The refurbishment includes restoration of plaster work and paintings, installation of new carpet, curtains and seats, and updating and refurnishing the auditorium and foyers.