Deacons and priests ordained at Gloucester Cathedral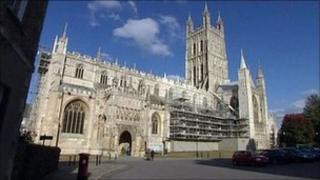 A former banker and an ex-police officer are among nine men and women taking the first step into ordained ministry at Gloucester Cathedral later.
The Bishop of Gloucester, the Right Reverend Michael Perham, will ordain them deacons at a special service.
Ordination is the Church's official recognition of a person's sense of calling to be a priest or deacon.
On Saturday, 15 people were ordained priests at the cathedral.
The soon-to-be deacons have all completed several years of training at theological colleges around the country.
'Rich variety'
Being ordained will give them the authority to do certain things in the name of God and the Church.
The priests ordained on Saturday have already been working in churches throughout the diocese as ordained deacons, learning the work of a priest and assisting their parish priest in the running of the church.
The service was the final step for the new priests after years of training.
Bishop John Went, the Suffragen Bishop of Tewkesbury, said: "The ordination of 15 priests and nine deacons over the first weekend in July is a cause for celebration.
"The priests and deacons come from a rich variety of backgrounds.
"We rejoice in these men and women responding to God's call on their lives, offering their gifts, themselves in the service of God, the Church and the wider community."